---
Ulyanovsk State University provides multiple opportunities for post-graduate professional education. Post-graduate programs are offered in a wide variety of fields. At the present time, they enroll over 400 full-time and part-time students. In 2012, USU had 6 doctoral thesis examination boards in 16 fields of study. Over the years, thesis boards at USU have conferred 72 doctoral and 750 candidate's degrees, including 36 doctoral and 220 candidate's theses defended by students from other universities. As of 2012, USU post-graduate students and staff members have earned a total of 122 doctorates and 1007 candidate's degrees, both from USU and other institutions. In addition, the faculty of medicine at USU offers internship and residency training programs. Continuing professional education is the principal area where the idea of lifelong learning is put into practice. Its main aim is upgrading of skills and professional retraining based on curricula developed in compliance with unified programs and qualification requirements.
Ulyanovsk State Medical University
Ulyanovsk Medical University
Ulyanovsk Medical Academy
Ulyanovsk Medical Institute
Ulyanovsk State University is one of the youngest university of Russian Federation in Ulyanovsk city. Ulyanovsk State University is a Federal State Educational Institution of Higher Professional Education. Ulyanovsk State University established 1988 as a branch of Moscow State University named after Lomonosov. At that time 200 students were enrolled in Ulyanovsk State University. Today Ulyanovsk State University is combining classic university tradition with the latest trends in the Russian, international education systems, Ulyanovsk State University provides the formation of moral, scientific and cultural values of the society through quality training, outlining the future development of the main sectors of the economy and social infrastructure in the region. At present Ulyanovsk State University enrolls about 16,000 students from within Russia, Europe, Asia, Africa, North America and South America. Currently the university employs 1,254 faculty members in 80 departments, including 138 Doctorate and 623 Candidate of Science degree holders. Till date Ulyanovsk State University has trained 26000 professionals.
ACRONYM : USU
STATUS : State
ACCREDITATION : IV
ESTABLISHED : 1988
DEPARTMENTS : 80
TEACHING STAFF : 1254
STUDENTS TRAINED : 26000
FACULTIES
• General Medicine
• Economics and Business Administration
• Physics and Engineering
• Mathematics and Information Technology
• Law and Public Service
• Ecology
• Humanities
• Culture and Arts
Why study in Russia
Russian universities have a quite good network with universities all over the world. Every year thousands of students have the opportunity to go abroad and spend some time in a different country, studying and living. This should be the same way for international students.
Because of this, Russian universities and technical colleges try to provide enough university places for international students and they also make efforts to support them in many other questions concerning the time abroad. But what is it that makes Russia that special and what can it offer to the students from all over the world? The Russian Federation proportionally is a largest country in Europe and its history as well as its actual role in the world is something special. It is not only in Europe that Russia has an important position but it is also an important international trading partner and player, concerning political and economic questions. Russian employees from different fields and disciplines are in great demand all over the world and have realistic chances to get a job in an international company in many different countries.
Russia itself is also a good and attractive country to work there later. These opportunities exist due to the good Russian educational system.
| | | | |
| --- | --- | --- | --- |
| | World University Ranking | 776 | 16.234 |
| | Teaching Ranking | 714 | 24.182 |
| | Research Ranking | 772 | 6.730 |
| | International Diversity Ranking | 764 | 10.751 |
| | Financial Sustainability Ranking | 744 | 22.220 |
| Additional Rankings | Rank | Score |
| --- | --- | --- |
| | | |
| --- | --- | --- |
| Reputation Rankings | 784 | 4.854 |
| Academic Rankings | 772 | 20.917 |
Overview
USU offers a wide range of study options: full and part-time, external, extended, distance education programs on undergraduate, graduate and post-graduate levels. There are 68 majors, 66 post-graduate, 29 residency training, and 14 internship programs available. USU offers the opportunity of enrolling in dual degree programs.
Mission Statement
Ulyanovsk State University as a center for education, science, culture, health and high technologies Ulyanovsk region, combining classical traditions with the latest trends in the development of Russian and world education systems, educational activity with innovative activity in the field of science-intensive technologies, directing its capabilities and resources to the socio-economic development of the region, provision of education of the moral, scientific and cultural values ​​of society through qualitative training of specialists sheets in all spheres of life, determining the prospects for the development of the main sectors of the economy and social infrastructure.
Teaching Staff
The staff of the university consists of about 700 teachers (c. 100 doctors of sciences and c. 350 candidates of sciences). 39 professors of the University are academicians and corresponding members of domestic and foreign Academies.
Campuses and Buildings
The territory of the university (without the clinical bases) occupies 17.3 hectares. It has 16 educational buildings, five hostels, covered track and field athletics arena, sport centre (with stadium and swimming pool), several cafes. The library fund of university is about 600,000 books. University has also its own publishing centre.
Ulyanovsk State University Total Cost for 6 yrs MBBS / MD course: Rs 16,75,000/- (approx), only food extra.
( NO HIDDEN COST )
1st YEAR CHARGES:
Application

Rs 25000

With application to be paid in India

Our Charges ***

Rs 2,00,000

within 15 days after receiving Invitation

Letter scan copy

University Tuition Fees ( 1st Year )

(+ Hostel + medical insurance+ Misc)

Rs 3,11,000 ( 283000 Ruble )

To be paid direct to University by cash in

USD / RUBLE

Grand Total

Rs 5,36,000

Total 1st year expenses... only food extra
Our Charges includes:
*Invitation Letter from University
*Students Visa charges
*All translation and legalization charges of documents.
*Airfare from Delhi to Moscow, one way only
*1st Years Immigration clearance and Airport pick up
*Travelling cost from Moscow to University by train / bus
*Hotel expenses for one day, if required
*All food expenses during travel
*Visa extension and registration in Government departments in Russia
* 10 mins free call one time back to home after reaching university
2nd year to 6th year charges
University Tuition Fees ( + Hostel +

Medical Insurance )

Rs 3,00,000 ( 273000 Ruble )

to be paid direct to University every year for

5 years

Total

Rs 3,00,000

Every year x 5 years

TOTAL FOR 5 YEARS

Rs 15,00,000/-

including all, Food extra
Note:
1. Tuition Fees should be paid directly to the university.
2. Final amount may differ slightly on the basis of currency exchange rate on the date of payment.
OTHER EXPENSES:
Equivalence Certificate: 200 USD after reaching Russia.
Food expenses: Food expenses ( Fixed ): 100 USD ( Rs 6500 per month approx ) per head ( 1st year mess fees must be paid in
India before going to Russia)
***It is compulsory for Indian students to stay in our Indian hostel in the 1st year. No Indian students will be allowed to stay outside even if he / she pays
hostel and mess charges.
(Fee structure is stated in Russian RUB. Fee has to be paid every year not later than 10th of September of that year for that academic year. The above fees should be paid to University directly in Rubles or equivalent amount in USD. (Bank Drafts, Cheques, bank orders, etc are not accepted in Russia). These fees are strictly non- refundable. These fees are in accordance with the current cost of communal charges (Commodity, Electricity, Water, Gas, Centralized Heating System, etc.) and therefore can be changed every year depending upon the cost of communal charges for that year).
We have never and we will not ever keep anything that can be termed as HIDDEN COST. We simply do not want the students to face any sort of problems related with money after reaching Russia. That is why we have explained everything clearly here in this mail. Even after this if you require any sort of clarification on any matter, kindly call us anytime to clear your doubts.
Admission Requirements and Required documents: (Some Documents can be done after getting the Offer Letter)
1. Minimum 50% marks in Physics, Chemistry and Biology, the rule is 50%.
2. 17 years of age completed as of December 31
3. Passport Photocopy, (passport should be available within August 15th)
4. Passport Size photographs
5. Birth Certificate in English or Hindi ( or Translated and Notarized )
6. Education certificates/transcript of records 10th & 12th / Intermediate mark sheets
7. Police clearance certificate (PCC, may be required)
ADMISSION PROCEDURE:
The student can apply in any of one the following options:
1. Once we get your application along with the documents mentioned in the admission requirements, we shall write back to you
with questions, comments and Details.
2. We submit Your Application to the admission committee for international students of University.
3. The University will give us the instruction as to accept the application or reject it.
4. If the University instructs to proceed with the admission of student we intimate you.
5. We do all the formalities and send you the acceptance letter from the University.
6. Once the acceptance letter is given to the student the student has to submit his Passport copy soon.
8. Then we apply for the visa in the nearest Embassy/ Consulate of Russia.
9. The visa is issued and you notify us of the student's date of journey.
10. The student travels to Moscow.
11. University officials and our officials from Omkar Medicom, shall be there in the airport to receive the student.
12. He/She is put in accommodation provided by the university.
13. The next day the student pays the tuition and hostel fees to the international student department and join the course.
14. If the student has any problems, our officials are there 24 hours to help the student.
Please Note that we may accompany you in batch of minimum 15 or more students from Delhi airport to the University, but it is not compulsory on our part. But if any student gets his / her passport very late, then he or she will have to go alone. But our officials will pick him / her from Moscow airport and do the rest process. Going to Russia alone is very easy and hassleless and we will guide you in all respects.
Hostel Fee
Includes Accommodation, Bedding, Furniture, 24-hrs Electricity, 24-hrs Gas in Separate Kitchen, 24-hrs Hot and Cold water supply and Centralized Room heating system.
Food
100 US Dollars/month = 1200 US Dollars/ Year = RS 65,000 per year
Indian Mess
– Indian Mess is available in Ulyanovsk State University for Indian students. Food is served two times a day i.e. Lunch and Dinner. Food fulfills the balanced diet requirements of a student. Vegetarian and Non-Vegetarian food is cooked and served separately.
Accommodation
Ulyanovsk State University Fully furnished international hostels are available for International students. Separate wings for Boys and Girls. Hostels are with self-kitchens, attached toilet/wash room centralized heating facility, Wi-Fi internet, Medical Centre, Gymnasium, Laundry, etc
Sports & Fitness Complex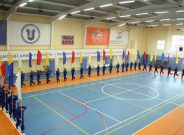 University Sports Center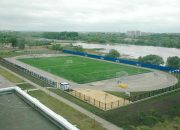 University Stadium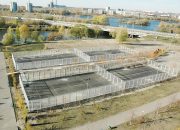 Tennis Courts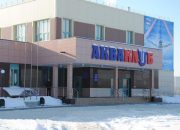 Swimming Pool
The Sports and Fitness Complex of Ulyanovsk State University provides the following facilities:
Sports and fitness centre (a gymnasium, a workout facility, a fitness studio, an auxiliary room);

Stadium with an artificial synthetic coating (a football pitch, run tracks 4 × 400 m, circle tracks, and tracks on the straight 6 × 100, two basketball courts, a volleyball court, an outdoor gym, a jumping place, a 1000 seat tribune);

Multipurpose sports complex (a gymnasium, a wrestling court, a boxing ring, an artistic gymnastics' hall, a fitness studio, a therapeutic exercise gym and a number of auxiliary rooms);

"Aquaclub" swimming pool.
The Sports and Fitness centre has the following sports departments:
Fitness (disciplines: step, aerobics, strength training, pilates, yoga, dancing styles, fitness for children). The classes are given by the following coaches: Natalia Mishina, Liliana Rodriguez , Julia Suzganova, Natalia Slobodyan.

Gym.

Basketball — Mon, Wed, Fri. 4.30 −7.30. pm.

Volleyball — Tues , Thurs, Fri. 4.30 — 7.30 pm.

Football — Mon, Fri. 6.00 to 7.00. pm.

Table Tennis
In the winter time, you can hire skis and skates.